Astutium Website Builder | Sitebuilder Tutorials | Template Designs | Cart Converters
Web Site Builder
Instantly Create a Website
Changes Anytime / Anywhere
4000+ Professional Templates
Fully Customisable for SEO
Many Add-On Components
Instant Online Website Builder
Our Online WebSiteBuilder is an advanced templated design package that enables you to quickly and easily create a professional website using a simple step by step process. After each step simply click Save then Next to advance from creating a new project, entering in your Company Name, Slogan, and Email to selecting your Template style and Content then 1-click Publishing your Site to the WorldWideWeb.

You do not need any technical training or experience to create a quality, professional looking site that has beautiful graphics and enables you to interact with your friends or clients. You can also upload your own Logo and Graphics, tweak the template styles (each has multiple headers and at least 3 colours), choose your preferred navigations systems, create/manage page structure, edit the page content with a familiar WYSIWYG html editor, add extra components, preview and then publish the website.
5000 Unique Customisable Templates
If the 1200*2*2+ (over 5000) professionally designed website templates don't fit your requirements, you simply download one, modify it and upload it back to the system. For example, you don't like the image/banner at the top, you can download the template, replace it with your own image link and re-upload to the system as a new custom template. Uploaded custom templates are for your own exclusive use only.

>> Demo/View Available Templates
Advanced Intuitive WYSIWYG Edtior
Supports all versions of Internet Explorer versions from 6.0 onwards on Windows and FireFox version 1.4 onwards on any platform, and gecko layout engine browsers 9safari, chrome) on any platform Windows, Macintosh and Linux.
Expanding Template Collection
New templates are added each month, and can be any thing between 5 and 15 per month (over 150 new designs added so far this year !)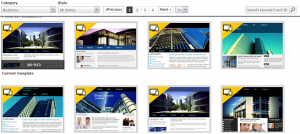 Multi-Lingual Support
Create your website in any european language (RTL languages such as Arabic not supported yet).
Sample templates that can be used and edited with ease
New Interface

Professional looking user interface offers a more flexible, easy-to-use and better accessibility.

DIY (Do It Yourself) Template

End-user will be able to create a new template themselves from the wizard. End-user will choose the pre-built non-header templates, and then upload a image to show on the header.

AJAX Technology

Easier and faster to work. Several tasks are done in a second without to reload the web page. User will not lose the focus on the working context.

New Layout Template

Build the website faster with new layout templates both in full page layout and block layout. New layout now automatically show the images suitable for the web category you are using. End-user just need to edit text.